A good friend of mine asked that I share some more crock-pot recipes so that she can have some new warm meals for winter. Here is a personal favorite that I found and modified to my liking from
all recipes
. The picture is from their site as well. My chicken & dumplings never looks like this but do taste FANTASTIC.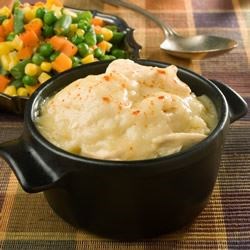 The recipe calls for 2 packages of biscuits but that was too fattening much for my family so we added only one.
4 skinless, boneless chicken breast halves
2 tablespoons butter
2 (10.75 ounce) cans condensed cream of chicken soup
1 onion, finely diced
1 package refrigerated biscuit dough, torn into pieces
1 cup of veggies-carrots, peas, potatoes (whatever you like)
1 can of chicken broth
Directions:
1.Place the chicken, butter, soup, broth, and veggies in a slow cooker, and fill with enough water to cover.
2.Cover, and cook for 5 to 6 hours on High. About 45 minutes before serving, place the torn biscuit dough in the slow cooker and cover them with some liquid. Cook until the dough is no longer raw in the center.